Going Beyond the Script
Written by: Melanie Simmons
If you're looking for a fun-filled show to brighten up your summer months, look no further than Hairspray! The musical was based off the original 1988 John Waters cult classic film. It features music by Marc Shaiman, lyrics by Scott Wittman, and book by Mark O'Donnell and Thomas Meehan. The story of the ebullient Tracy Turnblad has won hearts and minds the world over. In fact, this 8 Tony Award winning show is so popular, it has been produced worldwide and spawned a new film adaptation in 2007.
What makes Hairspray so special is the way it blends 1960's nostalgia with incredibly relevant modern day topics, such as fat acceptance, racial tolerance, and gender identity. It does this all through infectious characters, unforgettable songs, and toe-tapping dance numbers. Let's take a look at how TheatreWorld Backdrops can help you bring this empowering spectacle to your very own venue!
Tracy's World – Act One Drops




Baltimore, Tracy's Home, and WZZT-TV
Good morning, Baltimore! While set pieces can accomplish a lot, nothing screams Hairspray quite like this Baltimore City Square backdrop, which was specifically designed for the show. Quaint brick buildings in brilliant hues capture the charm of Tracy's beloved hometown and 60's era cars in primary colors set the period. Center, in standout white, the studio home of WZZT-TV features prominently on the drop, as it does in the show.
An ideal option to portray Tracy's particular corner of her beloved Baltimore is TheatreWorld's Tracy's Place backdrop. Specifically designed for this show, this drop captures everything you need for the Turnblad family in a single backdrop! Featuring the Har-De-Har Hut family business, with the Turnblad flat above, the bold colors and delightful details drawn directly from the show make this an unforgettable setting for much of Tracy' story.
Our plucky heroine needs the perfect space to dream her dreams and practice her dance routines. This Sweet Pea's Bedroom backdrop is a sure fit! With powder blue walls and pink details, this drop exudes innocent, girly enthusiasm. Retro saddle shoes under the vanity and the vinyl record player are just some of the details that pop in this drop. It's the perfect choice for Turnblad home scenes.
The Corny Collins Show is the backdrop for some of Tracy's finest breakout moments! Try this Vintage 1960's Entertainment backdrop. It features tall archways filled with colored light bulbs, framed by deep burgundy brickwork. It's the perfect drop to set off these pivotal dance scenes.
School Backdrops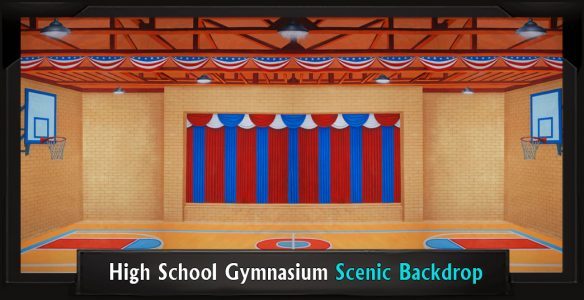 Tracy Turnblad's chipper spirit faces challenges at every turn. At school, she gets in as much trouble for her hair-"don't" as for being tardy to class. However, her detention time does have a silver lining: it gives her the opportunity to befriend the "negro" kids at school. Her new dance moves and new friendship with Seaweed and his friends gives her the edge she needs to get onto The Corny Collins Show. This High School Hallway drop will set the stage for this pivotal moment of teenage drama.
Tracy and Seaweed trade their trademark moves in detention – and they'll need a space to do so! Use TheatreWorld's Classroom Interior backdrop as an alternative school interior. This High School Gymnasium drop, likewise, could work for either dance scenes or the epic dodgeball fight scene. All three drops compliment each other in color scheme and detail, making your scene changes smooth and consistent.
From Platter Parties to Prison – Act Two Hairspray Drops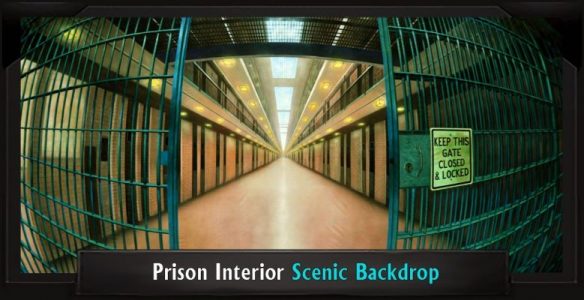 Broadway loves a good prison sequence, so be sure you give "The Big Dollhouse" number all the treatment it deserves! This Prison Interior backdrop is a perfect choice for Act 2's comical opening number. The imposing bars frame the scene with some clever forced perspective. Additionally, with some smart lighting, the drop's painted light effects will really pop.
Motormouth Maybelle's Record Shop is a musical haven for our plucky protagonists. You'll want something striking to back up musical numbers like "Big, Blonde and Beautiful". Try this Music Hall of Fame Wall as the perfect drop to set the scene. Rows of gold records with colorful labels pay homage to musical greats.
Thematic Hairspray Backdrops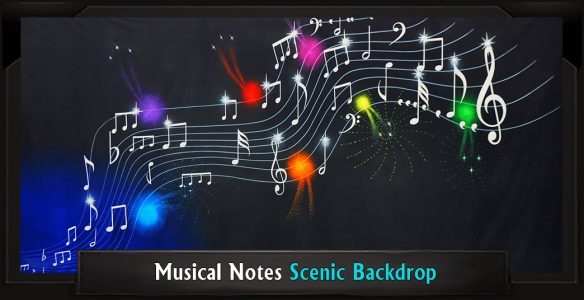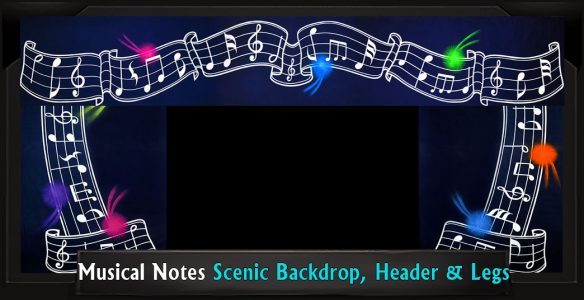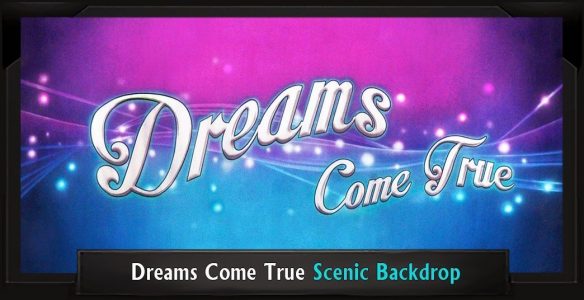 Sometimes, you just need that one perfect drop to set off your productions space, or to bring that extra pop to a scene or finale number. Let's look at some of the drops that could provide just the right accent.
Tracy Turnblad doesn't apologize for reaching for the stars! This Stars Applique backdrop would work for any of her high water mark moments, or even as a background for The Corny Collins Show scenes. White floodlight accents at the top and shooting stars pop against an indigo background. Use special lighting effects and gobos to bring this drop to life!
You can't stop the beat! So feature these Musical Notes as the backdrop for your show. Likewise, this drop could also work as the TV studio background.
If you're looking for a musical framework to set your stage, look no further than this Musical Notes header and legs set. The colorful notes dance across a simple white staff and a neutral navy background. It's a combination that would match any visual concept you can imagine.
Last but not least, even though she has to fight for them, Tracy's dreams eventually do come true! Not only does she catch the eye of her dreamboat, but she also enacts social change and makes the world (well, Baltimore, at least) a better place. TheatreWorld's Dreams Come True backdrop, with magenta and teal accents, would be just right for a finale that embraces these victorious themes.
Welcome to the Rhythm of a Brand New Day!
Few shows capture themes of individuality, acceptance, and bettering the world like Hairspray. This delightful, inspiring show proves that dreams come in all shapes and sizes. Best of all, it's pure fun and never seems to go out of style! You'll have your audiences dancing in the aisles to the infectious "You Can't Stop the Beat" and other hit numbers.
Beat summer's heat! Call TheatreWorld Backdrops today to build the perfect drop package for your company's very own version of Hairspray!