TheatreWorld Backdrops' Team Is Excited That The 2015 – 2016 Theatrical, Dance Recital, And Event Seasons Are In Full Swing!
TheatreWorld is gearing up to support your upcoming theatrical, recital, and event seasons! Wondering what shows are popular this Fall? Mary Poppins is, by far, the hottest stage show at the moment. Beauty and the Beast, Alice in Wonderland, Cinderella, Wizard of Oz, and Sound of Music, however, follow closely.  Our early backdrop rental and stage show package data shows that Winter and Spring selections are, so far, a bit more balanced across many show titles.  Dance Recital selections are heavily tilted towards The Nutcracker, as is typical this time of year. Our customers have widely accepted TheatreWorld Backdrops' new scenic designs to support Nutcracker for 2015. Backdrop rental orders for this incredibly popular presentation are very strong. Expectedly, Holiday-themed scenic backdrops also are at the top Event orders.
Our new "Around the World" series is also performing very well in the event arena.  Most of these new designs have debuted with clients, or will debut shortly.  TheatreWorld Backdrops' new Fantasy and Fairy collection enhancements, too, are performing well above expectations.  To meet client demand, we have already ordered additional duplicates and additional sizes of backdrops for many of these new designs.
Roald Dahl's Willy Wonka for Your Theatre, Recital, and Event Seasons
TheatreWorld's creative teams are currently working on multiple new design projects. These new drops were created in response to our clients' suggestions for several scenic enhancements. Some arose from new shows being released by the major licensing groups. We are in the process of releasing a completely new collection of scenic backdrops for Roald Dahl's Willy Wonka stage show. The full backdrops rental collection should be available by December 2015. The first two new scenic backdrops, the Chocolate Factory Exterior and Chocolate Factory Night, will release on the first of November.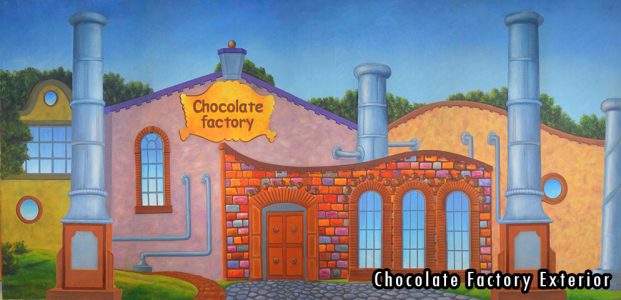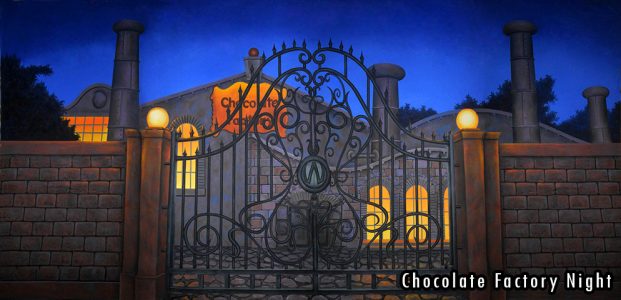 Saturday Night Fever for Theatre Seasons
Theatrical Rights Worldwide recently announced the availability of scripts for Saturday Night Fever in the USA.  TheatreWorld's team had discussions with their representatives and received a Perusal Script. Next, we began design efforts on several new backdrops to support this well-known show.  The first new design, released October 31st, was the Verrazano Bridge. This backdrop supports one of the major scenes in the musical.  Several other new stage backdrop designs are also underway, including a high-energy Disco backdrop.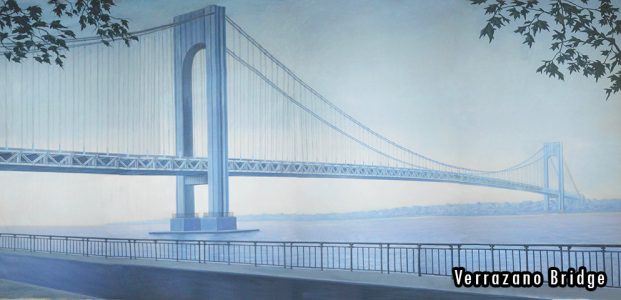 We have been expecting for some time that Theatrical Rights Worldwide would release the Million Dollar Quartet and they have. In October, TheatreWorld Backdrops released a highly-detailed Vintage Recording Studio backdrop that will support this show perfectly. We have also scheduled several additional designs to support this show over the next few months.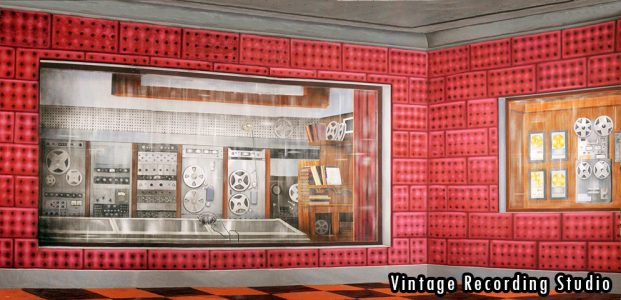 Website Changes and Other Updates
We have also added several new show-titles to our Show and Theme page. We hope this will speed up your search and improve you ability to find what you are looking for.  In many cases, you will not see a backdrop thumbnail, but, instead, a "coming soon" image. This gives you an idea of our design direction and indicates that further enhancements to those backdrop rental collections are on their way.
Additionally, we have received many compliments on our recently released multi-platform version of our website.  Customers have only reported very few and minor issues so far.  We hope the website is now easier to use across devices and welcome your feedback.
Our team is already beginning to plan for and is looking forward to the USITT Expo in Salt Lake in March. We hope it is as successful as last year's event was.
TheatreWorld Backdrops' team enjoys assisting all our customers in planning their productions and insuring the highest quality scenic imagery available.  We look forward to discussing your needs for your 2015 – 2016 Theatrical, Dance Recital, And Event Seasons with you. We are, as always, happy to discuss any of your ideas for enhanced imagery.  Please order as early as possible to ensure your primary image selections.