Lots of exciting backdrops for Winter Themes, DISNEY'S THE LITTLE MERMAID and ELF: THE MUSICAL!  Brand new SHREK: THE MUSICAL backdrops releasing in October!
Our design and production teams had the "pedal to the metal" all summer long! We produced 60+ hand-painted designs for TheatreWorld's new backdrop line up for the fall season. These drops are ready to support Holiday shows and events. Additionally, we enhanced many of our most popular collections.
Brand New Holiday Drops!
First, TheatreWorld enhanced our Holiday and Snow categories with circa 15 new backdrops. These scenic masterpieces can support general holiday events, as well as the most popular holiday theatrical offerings. The image below is TheatreWorld's Victorian Street with Snowdust – B, a stunning and exquisitely detailed Signature Series backdrop.
Additionally, TheatreWorld has designed a collection to support Music Theatre International's pending release of ELF: THE MUSICAL. These stylized, cheerful backdrops can also support other  Christmas events.  Our new Santaland backdrop, highlighted below, has been selected by Santa Jonathan for his annual California Christmas show and concert. We are very proud to be small part of this well known event.
New Drops for Disney's THE LITTLE MERMAID
Next, our team enhanced our Disney's THE LITTLE MERMAID collection significantly. We added 7 new top-quality backdrops. (Several of which are TheatreWorld's Signature Series Backdrops!) The detail is amazing! Below, we've highlighted Ursula's Lair. It doesn't get much more terrifying than this!  The Little Mermaid backdrops are ready for your fall shows. Let our team assist you in presenting the highest quality production possible.
BIG NEWS!! SHREK: THE MUSICAL is coming to TheatreWorld "Big Time!"
Our design teams also completed 6 new designs for Shrek. These new designs are now in the hands of our master painters.  TheatreWorld's Shrek collection releases in October. It will be the most full-featured in the industry.  The hand sketch below is a draft of TheatreWorld's new Dragon's Lair. The resulting backdrop will boast outstanding detail and will be a Signature Series backdrop.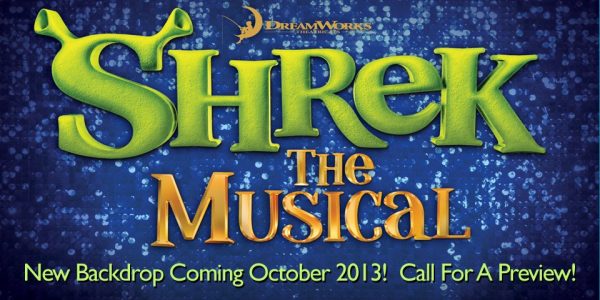 Introducing Headers and Legs
We're pleased to report the majority of our forest and jungle scenic backdrops are now available as headers and legs. This provides directors with the widest selection of woods and jungle scenery. These headers and legs can support any presentation, including Disney's TARZAN: THE MUSICAL. They are also great for any staged event that requires impeccable woods or jungle settings.
GREASE, HIGH SCHOOL MUSICAL, DANCE, and More!
Additionally, TheatreWorld's backdrop collections for GREASE, FOOTLOOSE, and HIGH SCHOOL MUSICAL all received new Signature Series backdrops during the summer. Please take time to visit those show pages.
Finally, we added many new backdrops to our Dance, Ballet, and Event categories.  One unique example is TheatreWorld's Four Seasons Terrace. It encapsulates all four seasons in one masterpiece.  This backdrop has been an instant success!  Another drop sure to be a hit is Hollywood Red Carpet. (See sketch below.) This drop is currently in production and will be available for fall events.
Please contact our customer services teams to schedule your backdrop packages for all your fall shows and events! Call ASAP to ensure your primary selections.