Charlene's School of Dance: What an Extravaganza!
Charlene's School of Dance has been Spring Hill, Florida's award-winning dance studio since 1977. Charlene's School of Dance, known as C.S.O.D. by its students, has won numerous National and State award titles, including Best Technique, Best Choreography, and the most difficult to achieve, Best Emotional Execution. They are truly a force to be reckoned with! Former students have gone on to continue their dance careers in impressive venues worldwide. C.S.O.D. alumni have performed at the world renowned Moulin Rouge in France, Busch Gardens, various cruise liners worldwide, Broadway stages, and of course, Disney World, which just reinforces the idea that "dreams really do come true!"
TheatreWorld had the pleasure of supporting Charlene's School of Dance in their 38th Annual recital.  (Although, after attending, our associates felt more inclined to refer to the event as a "Dance Extravaganza"! The title "recital" didn't do much justice to the amount of time and energy that was invested in the production.) Hernando High School in Brooksville, Florida hosted the event, which had a "The City of Life" theme.  There seemed to be hundreds of talented dancers, sporting thousands of sequins and performing routine after routine of intricate, crisp choreography. It's no wonder that Charlene's School of Dance stands out among the rest!
Coincidentally, Charlene's School of Dance chose the recital theme "The City Life" just as TheatreWorld began to release their highly anticipated "Around the World" Scenic Backdrop Collection. From China to San Juan, and from the soft sands of a tropical beach to the ruins of ancient pyramids, Charlene's School of Dance excited their audience with a production that was as diverse as TheatreWorld's ever growing collection of scenic backdrops!
Charlene's School of Dance 38th Annual Recital Highlights
Below are a few highlights of the Charlene's School of Dance team performing in front of a selection of TheatreWorld Backdrops.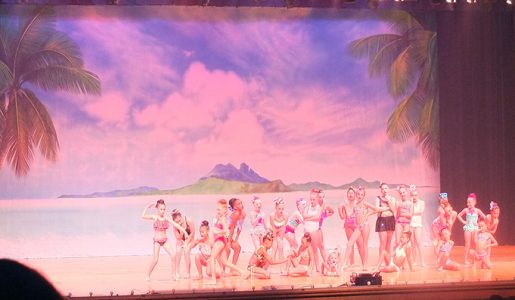 TROPICAL PARADISE was the perfect backdrop choice to set the scene for the City of Havana!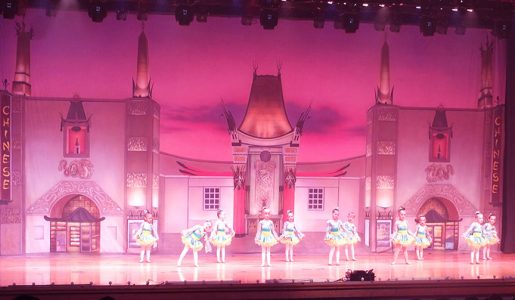 Our CHINESE THEATRE backdrop towered over the youngest members of Charlene's School of Dance. Nevertheless, you couldn't miss their delightful moves!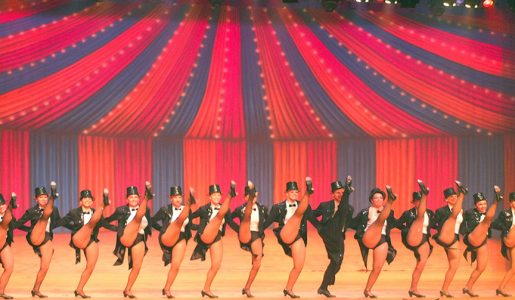 C.S.O.D. chose TENTE DE CIRQUE  to represent the City of Manhattan. In this number, dancers paid tribute to the Broadway stage.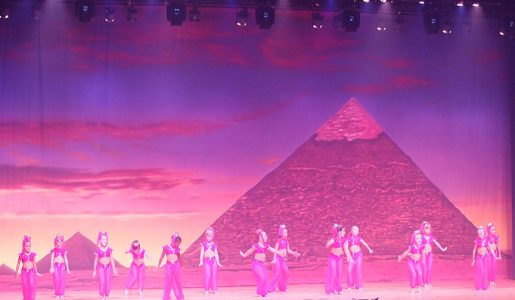 These adorable genies performed a number dedicated to the City of Giza. They looked great dancing in front of TheatreWorld's PYRAMIDS AT SUNSET backdrop.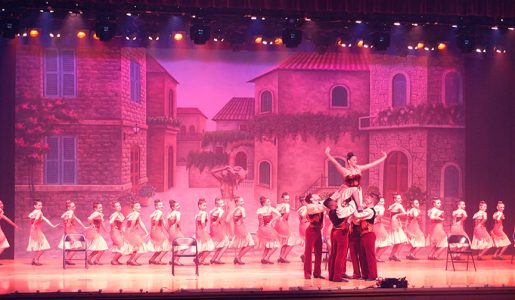 MEDITERRANEAN COURTYARD was the ideal choice to represent a quaint Italian town. Charlene's School of Dance's more seasoned dancers delighted audiences and highlighted the City of Rome.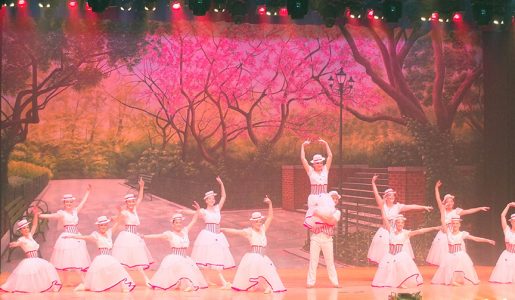 Similarly, the VICTORIAN PARK backdrop, with its blooming cherry blossoms, was the perfect choice to highlight Washington, D.C.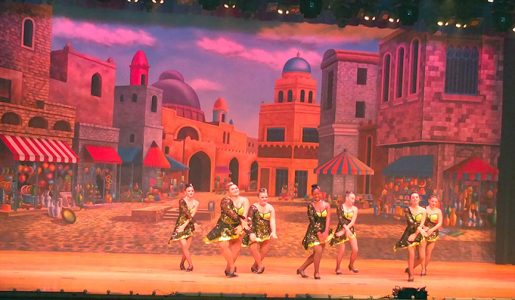 Next, Charlene's School of Dance selected the AGRABAH MARKETPLACE backdrop to represent the ancient City of Istanbul.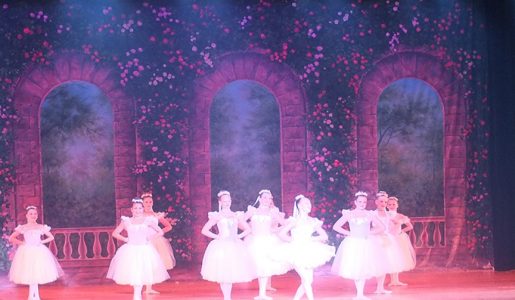 Finally, for a specialty competition piece, the team at Charlene's School of Dance chose our ROSE TERRACE  backdrop.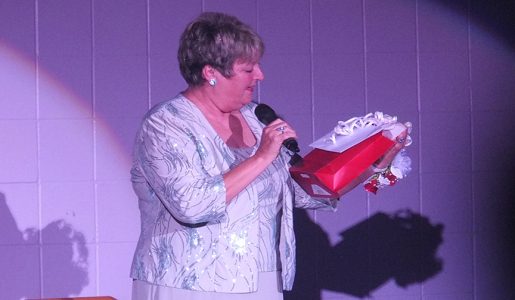 Bravo, C.S.O.D!
Even after producing an incredible "Dance Extravaganza," Ms. Charlene, of Charlene's School of Dance continues to work as she presents awards to students and teachers.  Great job by all!
The TheatreWorld Backdrops team members enjoyed the performances very much. We were happy to have had the opportunity to attend! We look forward to working with Charlene's School of Dance again next year!
Are you planning a recital, event, or stage production? We would be delighted to support you! Helping to meet or exceed your scenic imagery plans is our specialty.  Try our new WishList feature to assist you in your planning or call our team directly at 855.TWB.Drops and we will be happy to help.