TheatreWorld's Tattered American Eagle Backdrop Completes its Florida Debut Tour
Stages Productions recently embarked on a Florida tour of Let Freedom Sing. Thousands of school children saw and enjoyed the show. The production provided students with an educational and entertaining look into American history. Let Freedom Sing  played many of Florida's most prestigious theaters. It was our pleasure to have TheatreWorld's Tattered American Eagle along for the ride!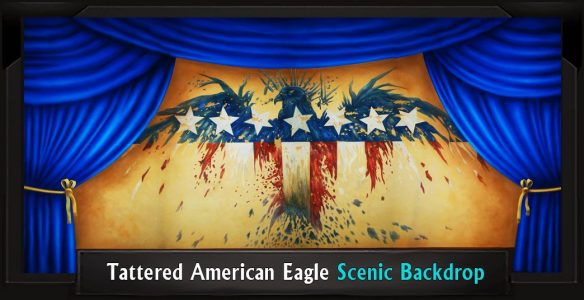 TATTERED AMERICAN EAGLE On the Road!
First, Let Freedom Sing headed to Broward County. The picture below is of Stages Productions' touring performers. Their first stop was a week-long engagement at the Amaturo Theatre at the Broward Center for the Performing Arts. From left to right are: Hilary, Eric, Topher, Mike, and Terri. The back row features American icons Abraham, Martin, and John. These men are the center of attention in one of the show's signature songs.
Next, TheatreWorld's Tattered American Eagle backdrop took center stage at The Largo Cultural Center. This wonderful venue hosted Stages Productions for a multi-day run.
The Mahaffey Theatre in Saint Petersburg, Florida has hosted central Florida's premier concerts, shows, and productions since 1965. Below, see the Tattered American Eagle, pre-show, in this spectacular venue.
Finally, the backdrop found its way into Ferguson Hall at the Straz Center in Tampa. For many Broadway touring companies, The Straz Center is one of their largest and most prestigious stops.
***
These are just a few highlights from Stages Productions' tour of Let Freedom Sing. Overall, the production was a huge success. Everyone involved came out of the experience knowing that their work had helped to propel Florida's theatre scene. Furthermore, the cast and crew were proud to assist in educating the state's youth. However, as good as it feels to finish up a great show at an acclaimed theater, we couldn't help but notice something on our way out. As we packed up our humble "horse and buggy" of a trailer, we looked across the loading dock and saw several huge trailers for a very popular Broadway touring production. Just goes to show that there is always room for growth.