Going Beyond the Script
Written by: Melanie Simmons
Every once in a while, a show comes along that takes Broadway by storm, making its mark on theatrical history and popular culture all at once. In the mid-90's, barely-known composer and playwright Jonathan Larson wrote and composed a show that would transform the rock opera genre forever.
Rent, a loose remake of Puccini's La Boheme, chronicles the lives and struggles of artists in Alphabet City (a bohemian subset of Manhattan's East Village) during the drug-fueled AIDS epidemic of the 90's. Larson himself never saw the show reach its full success. He died suddenly at the young age of 36 on the very night that Rent opened Off-Broadway in January 1996. This heartbreaking development, echoed strongly in the tragic nature of many of his characters, captivated audiences, and has cemented itself into the legacy of the show itself.
Raw and racy, Rent broke new ground in addressing sexuality, drug abuse, homelessness, artistry, and corporate greed. It is a tangled story of broken, lost souls, and their journeys towards love and, eventually, redemption. Rent is a tale that digs deep, bites hard, and finishes with a message of hope that resonates long and loud.
With the recent airing of Rent Live! on TV and a successful 20th Anniversary Tour underway, there's no better time to bring this gripping, modern tale to your own stage. In its original conception, the show relied heavily on staging over backdrops. Nevertheless, TheatreWorld has some excellent options to help you bring your own vision to this moving rock opera. Let's take a look!
Mark and Roger's Apartment
We'll start with this Brooklyn Loft backdrop, a primo choice for adding depth and dimension to your staging of Rent. The wide open windows bring light into the gloomy space, which would easily work as the show's primary setting: Mark and Roger's apartment. The backdrop features peeling paint on the walls and a limited view out the windows. It's an appropriately run-down home for Mark and Roger, two artists who cannot afford to pay their "Rent". The cool greys and blues outside the windows play well against the warmer tones of auburn and mahogany on the interior, contrasting the harsh outside circumstances foisted upon our characters, who burn with unrequited passions ("One Song Glory").
In the apartment, we also meet Mimi, a drug-addicted exotic dancer and lost soul, who is also HIV-positive. Mimi and Roger are instantly attracted to each other ("Will You Light My Candle?"), but both carry baggage that make theirs a troubled relationship
("Out Tonight", "Another Day", "I Should Tell You", "Goodbye, Love").
Collins and Angel Meet
The cast of characters expands as we meet Tom Collins, an openly-gay NYU professor who is mugged on the dangerous lower Manhattan streets. In his wounded state, he draws the attention of a cross-dressing street drummer named Angel. An immediate attraction forms between them ("You Ok, Honey?"). The quieter, gentler love blooming between Tom and Angel contrasts Mimi and Roger's tumultuous relationship, which becomes a catalyst for defining a love that is reckless and free. Ultimately, this theme of love in all its forms becomes the work of art Mark spends the whole show trying to capture ("Finale").
Use this East Side Street – B backdrop to accent Collins' and Angel's chance meeting. The dark and dreary color palette compliments the previous drop. Impersonal windows and closed shopfronts both convey the city setting and the run-down nature of this urban area.
Around Alphabet City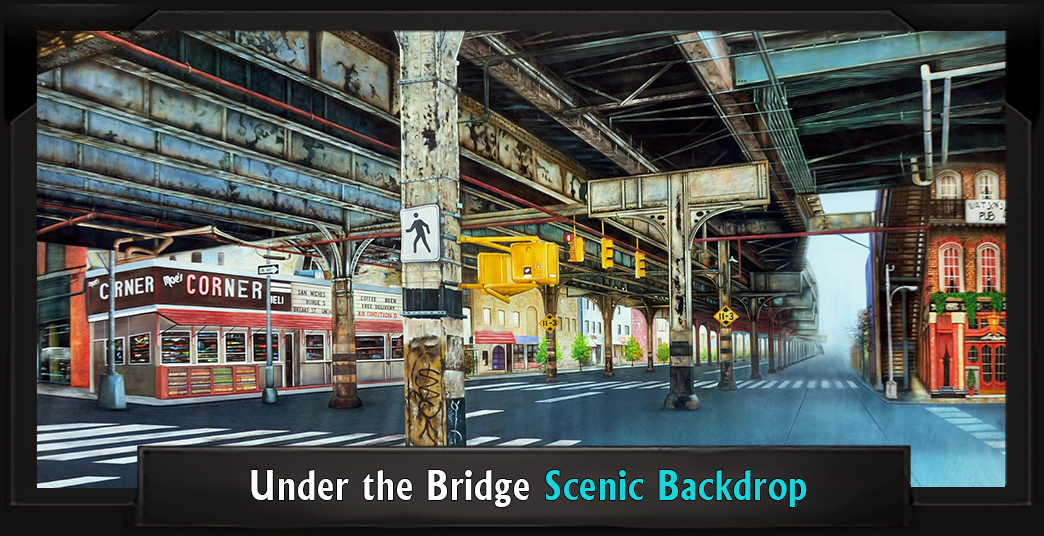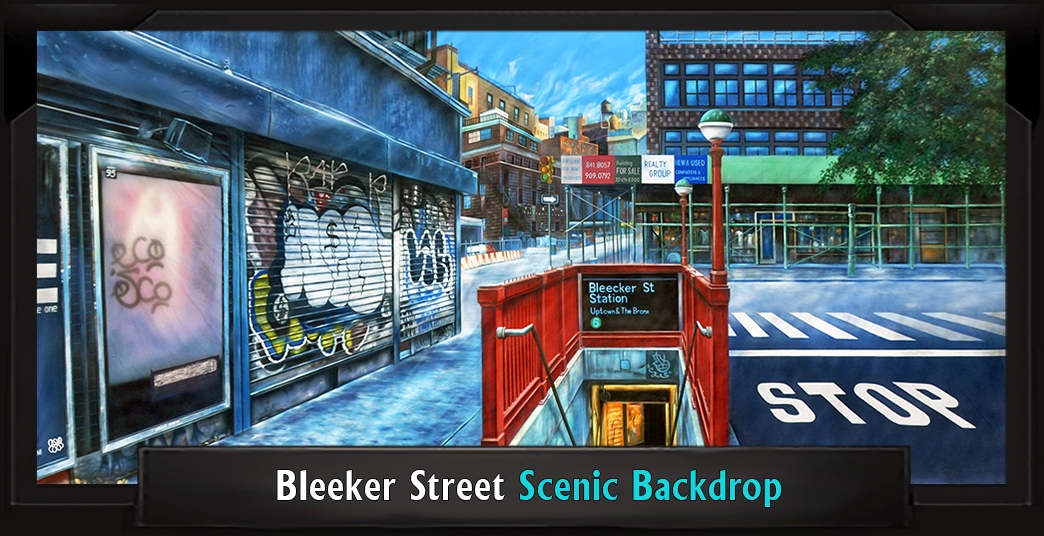 Another option would be to brighten the background in order to heighten the tragic elements of the story in contrast. Try this Under the Bridge backdrop for the exterior settings. The looming elevated train bracketing, which dominates the drop, gives a heavy, ominous feel. However, bright colors pop out through the windows and street signs, lifting the mood with glimpses of opportunity.
Likewise, this Bleeker Street backdrop is a go-to for capturing some true downtown New York City flavor. The splash of crimson in the center draws the eye to the subway station. (Appropriately channeling the sense of a dark underground.) Graffiti details add dimension and are in keeping with a less polished side of the city. Meanwhile, a single tree and some blue sky in the forced-perspective distance add in glimpses of life and hope.
Over the Moon
One of the highlights of Act 1 is Maureen's protest against the displacement of the homeless community in order to make way for gentrification ("The Tango: Maureen", "Over the Moon"). Try this Vintage Warehouse – B backdrop for a change of scenery here. Blues and browns mingle again, in keeping with the aesthetic. Rich, amber light shines through the windows on the upper levels, giving a sense of hopefulness. Detailing on the back wall panels suggest time and wear, in keeping with a historical building in danger of being torn down and repurposed, putting homeless people on the street. With the attention drawn to the center of the drop, all you would need is a stage and some lighting to make Maureen shine as the center of attention.
Act 2 – Seasons of Love
Act 2 opens with the timeless anthem "Seasons of Love". A powerful message in its own right, this song would be beautiful staged against The Clock – B backdrop. What better way to underscore the importance of time and how you spend it (and with whom) than with this abstract work of art? Gear details peek through an artistically winding clock face, which projects a Golden Ratio-esque sense of infinity. Time feels tangible and enigmatic as the Roman numerals march off into the fading center, where the clock hands pivot on a fixed center. For that matter, this drop would make a powerful background image for the entire show. Moving stage pieces could be used to create the apartment and other scene settings, while this drop would hover in the background. An empty stage showing only the cast singing against this drop would make your Act Two opener one to remember.
Single Drop Option #2 – Red Brick Wall
Speaking of single drop options, this Red Brick Wall backdrop is about as versatile as it gets. Red bricks imperfectly lined with aging cement, with the occasional grey patch and blue highlights, make this drop suitable for any artistic design palette. It would work well for every scene, leaving your Stage Design team to do all the work of crafting staging elements for the scenery changes. It would also make a stark backdrop for "Seasons of Love", which would be powerful in its own way.l
Single Drop Option #3 – Chromatic Rainstorm
Another choice would be to use Chromatic Rainstorm backdrop for your grand finale! While our characters have loved and lost and sold their souls, only to find them again, the final strains of this incredible musical masterpiece are ones of defiant love and hope for a better future. The rainbow streaks of light, detailed with playful sparkles, pop brazenly against the darkness. Not only is it a nod to the LGBTQ community directly, but it also speaks to anyone who has been through hell and lived to fight another day.
***
There is "No Day But Today" to try your hand at this indelible work! Contact TheatreWorld today to put together your personalized drop package that will have your audiences gleefully embracing "La Vie Boheme"!